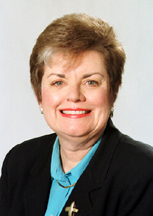 Michigan Supreme Court Justice
Maura Corrigan
is to become the new Director of the state's Department of Human Services.

Let's take a look back at all the "wonderful" things she has done for Michigan's Foster
Care
:

All in all, despite her real background in child welfare, I believe she is an excellent choice for the position. Guilt should do "wonderful" things for Michigan's people.
Michigan Supreme Court Justice Maura Corrigan Steps Down
Welcome to Michigan's hell. I look forward to your creative ways of ignoring me.